Articles
Gluren bij de buren (Dutch)
8 June 2020
Wat kunnen we leren over samenwerken op basis van de Vlaamse ervaringen met Family Justice Centers? Artikel geschrevenb door Janine Janssen, Karlijn Juncker, Teun Haans & Berna Trommelen.
Charter for Family Justice Center Antwerp
30 June 2016
The Belgium Justice Minister Koen Geens and the Flemish Minister of Welfare Jo Vandeurzen signed a charter for the founding of a Family Justice Center in Antwerp last tuesday.
A professional team of social workers, police- and Justice employees will collaborate and will be fully at the cliënt's disposal. The motto is: 'One family, one plan'. "In the next years the Flemish region will build social networks of social workers, police- and Justice employees to tackle the problem of domestic violence with an integrated approach", says Minister Vandeurzen.
The charter responds to Council of Europe Convention on preventing and combating violence against women and domestic violence. This month the Belgium approval law on this came into force.
---
FJCEU at 3rd World Conference of Women's Shelters
On request of the Global Network of Women's Shelters (GNWS), the Dutch Foundation of Women's Shelters and its partners organised the 3rd World Conference of Women's Shelters from 3-6 November 2015 in The Hague (The Netherlands). One presentation was about Family Justice Centers in Europe.
On Wednesday 4 November Bert Groen (MOVISIE) and Pascale Franck (CO3) spoke about 'Family Justice Centers in Europe, an Europan multi-agency approach of domestic violence'. Family Justice Centers are multidisciplinary centers where agencies permanent assign staff members in order to provide all services to victims of domestic violence and their families from one location.
The overall goal is to ensure that victims are able to access all the services, support and help they need. Since 2013 in Europe 9 FJC's are developed successfully in N.Ireland, the Netherlands, Sweden, United Kingdom, Belgium, Italy, Germany and Poland. They are united in the European Family Justice Center Alliance. This presentation gives more information about the structure/effectiveness of the FJC's and how victims benefit from this multi-agency approach.
---
Family Justice Centers Europe: Working Together to Address a Worldwide Problem
By Gael Strack, Esq.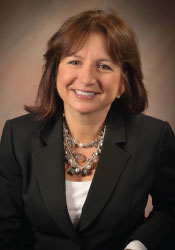 I just returned to San Diego, weary but enthused, from Poland where I met with our friends starting Family Justice Centers across Europe. I am inspired by the teams from five countries that are developing Family Justice Centers in six locations. The trip was worth every hour of travel, delayed flights, and forgotten sleep. Once there, you are instantly energized by the moment, the historical significance of the meetings, and always, the people. You immediately realize you are meeting with sisters, brothers, and cousins from around the world who share the same passion and vision of the future.
It was refreshing to see the many men involved in this initiative. Indeed, the initiative is lead by two men: Bert Groen (Movisie) and Anthony Polychronakis (City of Rotterdam) from Holland. In many ways, it is the President's Family Justice Center Initiative all over again – where 15 communities were selected by the Office on the Violence Against Women to participate in the President's Family Justice Center Initiative. But now I was in Poland. An international conversation is taking place about the co-location model.
The Family Justice Center Europe initiative is comprised of teams from Holland, Poland, Belguim, Germany and Italy. They are THE top movers, shakers, dreamers, and doers for their countries. They speak different languages but, thankfully for me, use English when together. They have the same tremendous ingenuity, energy, and determination as leadership teams from the US. Some countries have more challenges than others, but you know they will all be successful in developing their own model of co-location within two years or less.
read more